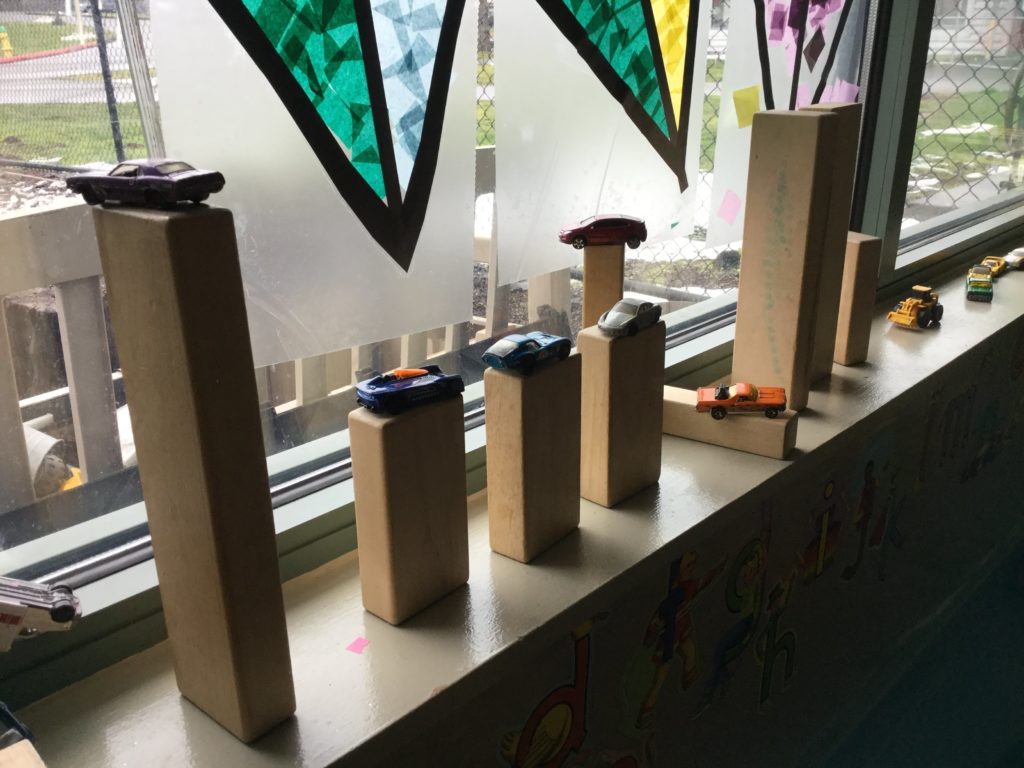 Mission Statement
The goal of Corbett School District is to foster intellectual development, social awareness and civic responsibility among the members of our school community.
Corbett Preschool is a play-based school that fosters the intellectual, physical, social, and emotional development of 3 to 5 year old children in a nurturing, school-based environment through developmentally appropriate and research-based practices.  In practice, this looks like children being agents of their own learning through observing, questioning, and discovery.
Our Philosophy
"Education is not what the teacher gives; education is a natural process spontaneously carried out by the human individual, and is acquired not by listening to words but by experiences upon the environment."
-Maria Montessori, on constructivism.
Corbett Preschool is a play-based, constructivist preschool that borrows elements of the Reggio Emilia Approach in its day-to-day adventures.
At Corbett Preschool, we use play as the foundation of our learning, and believe that preschool students are inherently able to process, understand, and gain meaning from their environment through the avenue of play and exploration.  We believe that play fosters cognitive growth, curiosity, creativity, and promotes problem solving skills.
We are a school based in constructivist theory – we believe knowledge is actively gained through building on existing knowledge.  We believe the environment plays an important role in this learning process, and strive to create an environment that is ripe with opportunities for exploration and experimentation.  Students are taught elements of respect and caring through the creation of a 'democratic classroom,' in which the students themselves are responsible for developing rules, performing real work to care for their room, taught to listen to one another, and empowered to find their own voices.  Corbett Preschool also strives to teach children resilience through healthy risks, creativity, and exploration of their environment.
We focus on the whole child, meaning we strive to teach children not just letters and numbers.  Our six key areas of learning, aligned with the Oregon Early Learning Standards (found at https://oregonearlylearning.com/early-learning-kindergarten-guidelines), are Approaches to Learning, Creativity, Literacy, Cognitive (math, science, and social systems), Social/Emotional, and Physical.
Discipline Philosophy
Corbett Preschool believes that children need to learn how to behave in appropriate ways.  It is the job of teachers, staff members, and volunteers to model these appropriate behaviors and maintain a classroom full of love, trust, and consistency.  We encourage students to explore their social world whenever possible, and give them reasonable choices throughout the day. We strive to create an environment where students are empowered to develop their own classroom rules, feel safe enough to make mistakes, and gain independence through asserting their own needs and boundaries.  We have found that fostering these skills discourages behavior problems.
At Corbett Preschool, we don't emphasize choices as good or bad because we believe students are still learning what constitutes a "good" or "bad" choice.  When a child needs extra support, we use redirection to correct behavior, along with giving the child clear choices with clear consequences.  Should a child's behavior need more adjustment than this, we will provide the child with natural and logical consequences.
Should a child exhibit behavior that is threatening to themselves or others, they may be taken to the office for some cool down time in a calm environment until they are ready to return.
We believe that adults are equally responsible for their behavior in a child-centered learning environment.  Our behavior and attitudes are constant examples for our students. We hold the following rules for all adults who enter the room, based on the work of Bev Bos at Roseville Community Playschool:
Observe
Listen
Be ready to "step in" with guidance should a child be on the verge of:

Hurting themselves
Hurting someone else
Destroying property

An adult must be in the classroom at all times while children are present.  This is state law.  For preschoolers, this must be a Staff Member (not high school student).  Should a student need further assistance, make sure a Staff member properly supervises all students at all times.  Please call the office should you need further assistance.
Children are encouraged to:

Run
Jump
Dig
Explore
Talk
Mix
Wonder
Pour
Ponder
Saw
Hammer
Paint
Ride
Imagine
Build
Be Excited
Measure
Lead
Play
Be Alone
Examine
Experiment
Sing
Create
Work
Express emotion
Follow
Watch
Hear
Smell
Taste
Daydream
Be children, Be Themselves.
Adults in our room are also encouraged to help children learn by using the following guidance strategies, based on Childwork Learning Center's Family Handbook:
Ways to Help Children Learn
Ask children open-ended questions that may lead to their discovery, instead of telling them directly.

Let children discover properties of materials by themselves. Encourage children to feel, smell, taste and listen as well as look at an object.

Let children discover new methods of doing things even though you already know a different way.

Let them explore according to their own ideas.

Give the children as much time as needed to understand a new idea or concept, sometimes weeks or months or years.

When speaking to children

Use their names.

Avoid comparing children and their work.

Give children a choice only when you will accept their choice.

Talk about what you observed.

Extend learning through open-ended questions.

State directions in a positive form – "Use the blocks for building," rather than, "Don't throw the blocks!"

Body language, tone of voice and words should be consistent.
A Child's Learning and You
Listening to a child is one of the most important experiences that you can share with a child. Getting down to the child's level lets them know you are giving them your undivided attention.

Allow children to play. Trust their play as a learning process. Play is the child's work.

Allow the direction of the play to emerge from the children's work. Observe children in their play, describe what you see and wonder aloud.

Children sense your intent, be clear and honest. Consistency with tone of voice, body and facial expression is important for children's understanding.

The community behavioral expectations need to be consistent for children at school and all school events (ie: outdoor spaces, common areas, hallways, etc.).