Hello Room 2 Families,
I hope you are enjoying this autumn weekend!  My family headed down to the 1,000 acre woods with our dogs this morning before all the rain and it was so wonderful to be outside!
We had an eventFUL week last week!  Here's a few highlights:
OMSI!!: This turned out to be a great trip all around.  I was delighted to see students' curiosity lighted up throughout the day.  We saw a planetarium show called "Our Sky" and the kids were amazed as the guide zoomed in on the moon and the sun.  It was a great way to jump into our unit about curiosity and observation of the universe.
Writing: We are finishing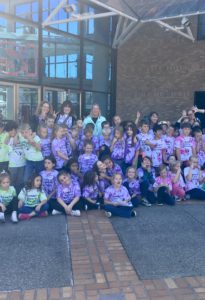 rough drafts and working on revising our featured small moment story.  As Mr. Clark used to say, "When you think you're done, you've only just begun!" That's a new idea for some of the students but they working on stretching their thinking to add more to their stories last week.  There is more stretching to come!
Reading: Monday was an ESPECIALLY amazing day to watch these guys focus in and work hard at their reading!  If there is anyone who can volunteer at the end of the day, I would love to have help reading with kids.  Let me know if you are available.  We start reading at 2:30 every day.
Gorge Studies: The scientific method is our main focus during the current unit.  The theme of the week was "Observation", the first step in the scientific method.  Ask your kids about the mystery box activity and what they did to find out as much information as they could about each item.
THINGS TO KNOW FOR THE WEEK AHEAD
1. JOG-A-THON is the big deal for the week!  Mrs. Wold's class is already in the lead for the class competition, but we can still catch her!  Let me know if you have any questions about donations and support your child as they run on Tuesday morning.  VOLUNTEERS NEEDED.  See the email I sent this afternoon.
2. Telescopes and night sky observations: On Tuesday (if all our magnifying glasses come in!) we will start making telescopes and the 2nd/3rd graders will all be given a small book to observe the night sky over the next few weeks.  Could any volunteers help assemble telescopes with our students on Tuesday or Wednesday? Just let me know! I would love to have help on this one!
3. If you have not gotten your OMSI field trip money in, please do so.  You can bring it into the school office, or I can deliver it there if you send it with your child.  It's very important to get this paid for quickly.