Our Curriculum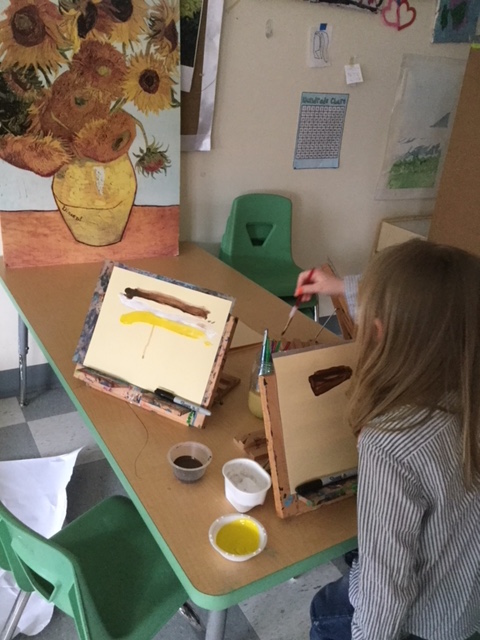 At Corbett Preschool, we focus on the whole child, meaning we strive to teach children not just letters and numbers.  Our six key areas of learning, aligned with the Oregon Early Learning Standards (found at https://oregonearlylearning.com/early-learning-kindergarten-guidelines), are Approaches to Learning, Creativity, Literacy, Cognitive (math, science, and social systems), Social/Emotional, and Physical.
Corbett Preschool also borrows elements of the Reggio Emilia Approach.  We encourage students to explore their own interests at their own pace, and believe that the process and experience of learning is just as important as the final product.  Following the Reggio Emilia Approach, we believe it is the duty of the classroom teacher to celebrate and document these learning experiences, making learning visible to all.  This also allows for further reflection and continuous professional development as educators. It also allows us to look for patterns, see change over time, and make connections to theory.
One particularly pertinent theory is Jean Piaget's Play Schema.  Play schema are common patterns that children use to explore the world around them.  In a nutshell, play schema are common patterns in children's play, or their vehicle for learning.  In practice, our teachers look for which play schema each child is currently exploring. From there, we strive to provide continued depth in our 6 core areas of learning through these schemas.  Children make new connections with content and curriculum in ways that are meaningful to them.
PLAY in the Preschool Classroom: The six major learning areas, also known as the DAP foursquare.  Approaches to Learning and Creativity are continuously present in the four core areas of learning.  Adapted from Developmentally Appropriate Practice in Early Childhood Programs, Oregon's Early Learning Standards, and the work of Lisa Murphy.
Schemas in Area of Play: Play schemas, derived from Piaget's Play Schemas, adapted by Susan Harper
Corbett Preschool samples elements of its curriculum from several sources.  Above all, Corbett Preschool relies on the judgment and choices of its qualified educators to provide developmentally appropriate and engaging day-to-day experiences that build on student curiosity.  We are knowledgeable of whole-child development, and use this knowledge to build our curriculum as a team with the children. We also use Letterland to being the journey to literacy, a curriculum used throughout Corbett Grade School.  Handwriting Without Tears guides us as we help children hone their fine-motor writing skills.
We strive to provide a cohesive education that incorporates literacy, mathematics, social skills, science, health, art, and the ongoing study of the Columbia River Gorge.  For more information on child-led curriculum, please see Learning Together With Young Children: A Curriculum Framework for Reflective Teachers by Deb Curtis
What do we mean by constructivist approach, child-led learning, play schemas and play-based classroom?  In action, this means the children's interests are the driving force of our curriculum.  Here are some examples of this learning in action:
What You See

(Observable Behavior)

What We're Learning
Teacher Support

Children with shovels in hand, closely analyzing a treasure map, arguing about which direction to turn.

Cognitive

: Spatial reasoning (where is my body in space? Where are things in relation to each other?), geometry (what are the shapes of things on our playground? How do I describe/identify/draw this shape?),

Social/Emotional: Solving problems with peers, standing up for beliefs, how to disagree, how to compromise

Literacy: Express ideas verbally, listening, drawing and labeling, the power of written word, reading for meaning, using new vocabulary about maps and space

Physical: Fine motor skills (drawing and labeling the map), Gross motor skills (physically following the map), assessing risk (is it safe to go this way?), sensory exploration (what does the dirt feel like as I dig?  How hard do I need to push the shovel to get it to work?)

Guide children to appropriate tools and places to dig, help negotiate argument, provide enriching language, model different elements of map making, provide writing and drawing tools outside, remind students of their plan next time they're outside, continue the map theme by burying treasure in other areas of the playground, making more challenging maps for them to follow, encourage new game in which children make maps for each other…

Children moving from place to place in the room, tiny animals in hand.  They build a house with blocks, then pause to let their animals 'drink' from the water table.

Cognitive:

Spatial relationship with blocks and building, developing complex social structures and rules for their animals. Experimenting with water.

Social/Emotional: Building friendships with peers, re-constructing and processing emotions through play.

Literacy: Talking and listening, narrating stories of each animal,

Physical: Caring for self by keeping sleeves dry, being mindful of body in space, being mindful of others' bodies in space.

Provide additional props for play, encourage incorporation of literacy through sign-making or narrating the story to be written down.  Encourage math and problem solving by drawing plans for future block buildings. Taking pictures of buildings to be re-created again later.

Child at art table with a big bowl of glitter, "too many" cups of paint, covering their hands and elbows in light green paint at a canvas.

Cognitive:

Experimenting with color, texture, and patterns.  Scientific reasoning, hypothesizing, and investigation through questioning (if I add this much white, will it always result in this shade of light green?  What if I add yellow instead?).

Social/Emotional: Feeling powerful and confident through trust with supplies and 'real tools' like quality paintbrushes and cloth canvas.

Literacy: Exposure to new vocabulary around color and texture, expressing needs clearly to teacher

Physical: Increased sensory awareness of body in space due to paint coverage, fine motor development from painting with brush and painting uneven surfaces, assessing environment for space and hazards, advocating for needs (apron? Clean-up?), self-care for keeping clothes tidy and cleaning hands after.

Continuous vocabulary development through questioning: what does this color remind you of? What does it feel like? How does the texture change when you add more glitter? What else do you need?  Do you need help with clean-up?